Choeur Scénique Brésilien hired me to design their logo, advertising materials and a signature. We wanted to create a brand identity that captures the vibrance and diversity of this scenic choir whose mission is to bring the spirit of Brazil to Montreal.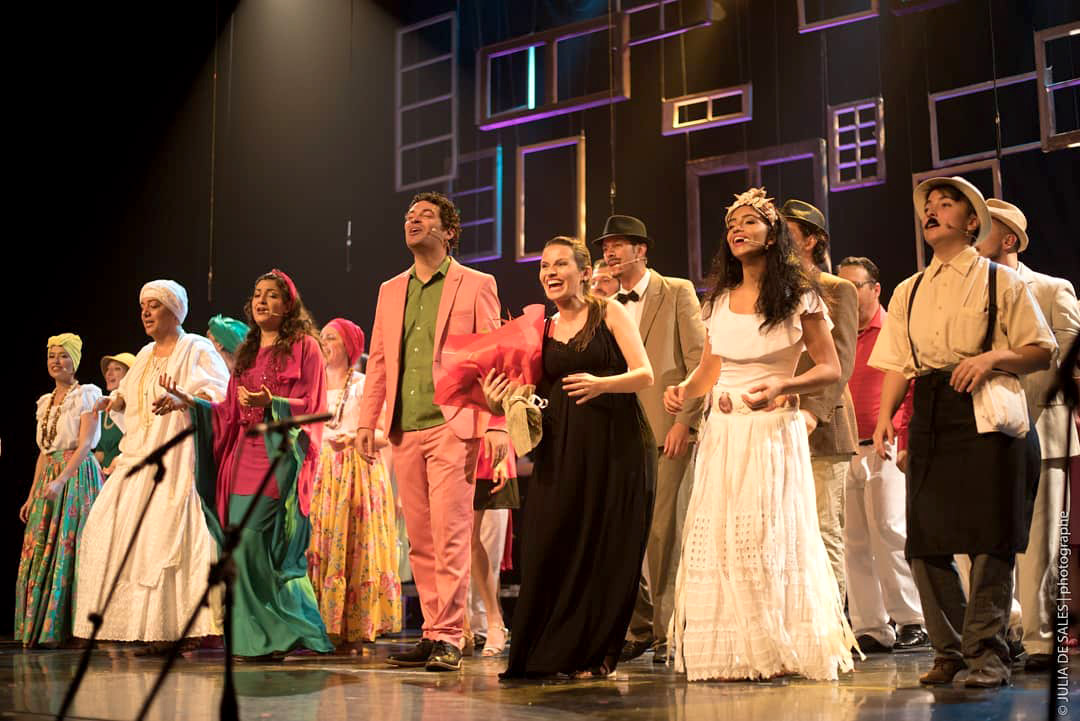 Scenes from the show "A voz do morro" | Creation and Direction: Taia Goedert  | Musical Direction: Auro Moura
Under the artistic direction of Taia Goedert and the musical direction of Auro Moura, the Chœur Scénique Brésilien (Brazilian Stage Choir) began its activities in August 2015 and offered its first public performance in December of the same year. It currently consists of five musicians and 36 singers, including child choristers.
Logo Design for C
hœur

Scénique Brésilien
I sketched and explored many different possibilities for the logo, before arriving at the final design. 
When I thought of Brazil and its rich natural beauty, I thought of colourful birds and their exquisite sounds, bringing joy to all hearts. With its colours, sounds and movement, the bird was the perfect element to represent the Brazilian choir! Once the bird was chosen, I refined the final design to give a sense of movement, of birds singing harmoniously in a group.
A little bird came to tell me...
The warm colour palette was chosen to reflect colours associated with Brazil. Although it is a variation of the green found in the Brazilian flag, I chose green because it is frequently used to represent Brazil and its forests. This was nicely complemented by orange to represent the warmth of the sun, as well as blue, reminiscent of the sea.
American Typewriter is a font that is free, round and almost comical.
It evokes informality and play—perfect to inspire a moment of singing and relaxation!
Signature for the Show "Saudade meu remédio é cantar"
In December 2016, the group presented its second show, named Saudade, meu Remédio é Cantar (Nostalgia: my remedy is song). The show was presented in the auditorium of Montréal's Grande Bibliothèque in two sold-out performances, for a total audience of 600. I was approached to create a signature for this project and take care of its visual brand.
Saudade is a word for a sad state of intense longing for someone or something that is absent. Saudade comes from Portuguese culture, and it is often expressed in its literature and music.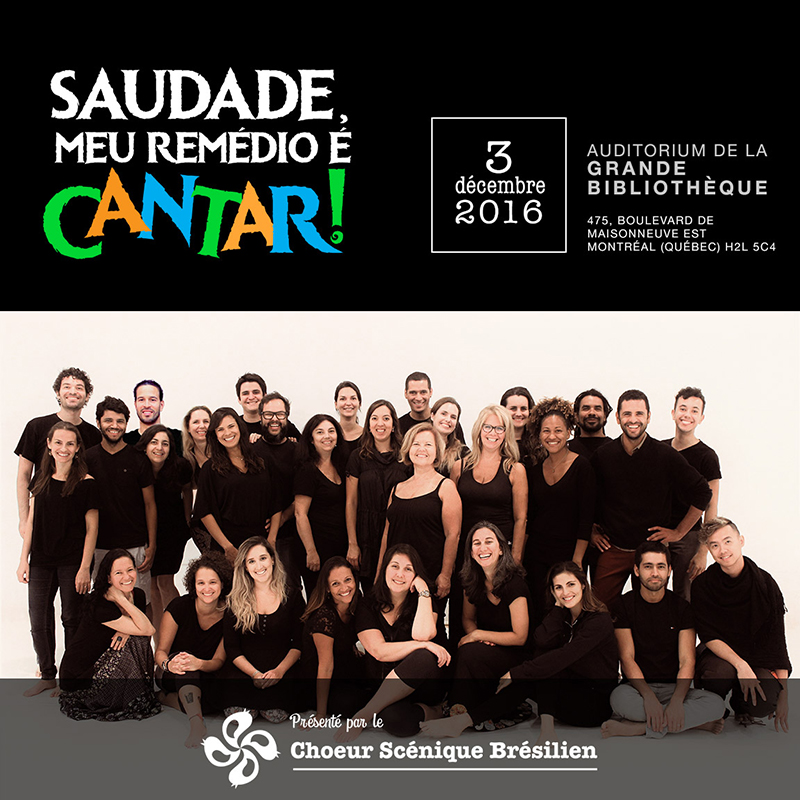 In 2017, they presented their third show, TXAI, at Collège de Maisonneuve. They touched on the theme of friendship and its share of melancholy. In Kaxinawà (the language spoken by a Brazilian native people), the word "txai" means "more than a friend, more than a brother, the half of me that exists in you is the half of you that lives in me." They took the opportunity to honour composer and singer Milton Nascimento, a famous Brazilian artist whose register links Afro-Brazilian sounds and Brazilian jazz. In 2018, they took part in the semi-finals of the Syli d'or of world music. I was also approached this time to take care of all brand.
Facebook and Instagram Posts
"Ana is an extremely competent and attentive professional. She managed to capture the essence of our work and insert it in all the graphic material created for the CCB. Attentive to details and openness to dialogue with the client, Ana allowed us to participate in a collaborative way, involving us in her creative process. It was a great experience to count on Ana's professionalism and seriousness."
"Working with Ana Cano on these 3 projects was wonderful. She is super creative, always full of ideas and alternatives. Very meticulous and attentive to details, she is totally involved, to deliver better results for each project. We are very proud of our visual identity and we hope to be able to count with her talent again very soon. "